Sell tickets online with Cortex Tickets
Sell your tickets online. Wheter you are a small local promoter or a promoter for major events, an association, a music group or the organizer of an open air – everybody can sell tickets using Cortex Tickets. Offer a better service for your customers and sell tickets online – your booking offices virtually everywhere. The ticket sale with Cortex Tickets is fast, safe and straight forward.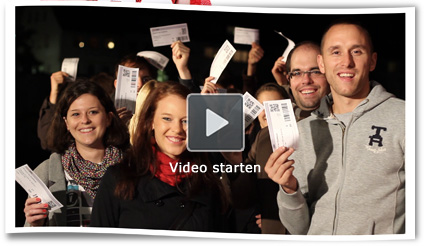 Videoplayer is loading ...
You need the current version of the
Adobe Flash-Player
or a browser with HTML5 support.
Check admission easy with your smartphone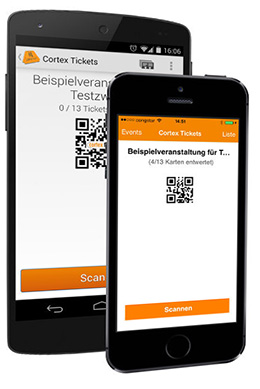 Professionally selling tickets online was never that cheap
sell every type of tickets on the internet – easy, fast and secure

free registration, cheap and transparent prices
booking offices virtually everywhere – your customers order comfortable from their homes
no trouble with the payments, we take care of the whole payment handling
Check the admission by guestlist, notebook, iPhone, Android, iPad, barcodescanner, and much else
Sell tickets online – For example: Band, Karneval, Fasching, Festival, Konferenz, Kongress, Konzert, Messe, Musical, Party, Silvester, Sport, Tanz, Tickets, Theater, Workshop

also suitable for small events

and many more adavantages!
Register for free now and start selling your own tickets in two easy steps.